DESCENDANTS OF PALATINE AND PURITAN UNITE
John W. Bollman and Martha E. Mitchel were married
October 19. 1969, at Decorah, Iowa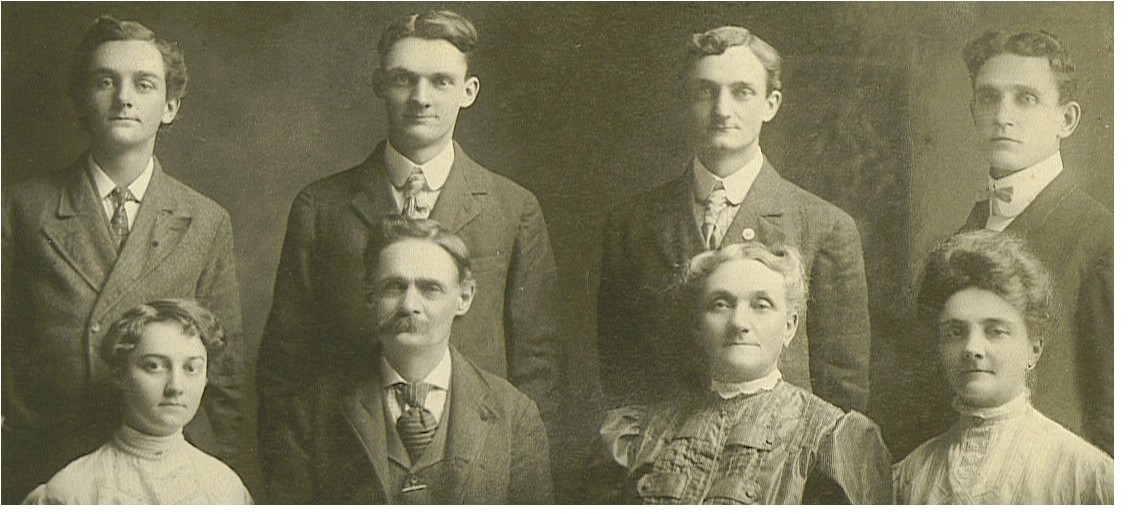 THE JOHN W. BOLLMAN FAMILY - 1907

Seated: Nettie Elizabeth, John Waxler, Martha Elizabeth, Celia Elora Standing: Dean Stanley, Jesse Clinton, Abram Jay, Lenthal Azel John, see Bollman 2 Martha, see Mitchel 2

Burton Ovid, 1870-1886; b. Iowa, d. Oregon.
Lenthal, 1873-1936; Physician, Surgeon, M. D., F. A. C. S. m. 1907 Nella Ide Jester; 3 chd., Jester, Paul, and Lenthal Jr.

Celia, 1875-1943; teacher, musician, private secretary; m. 1928 Jack Shannon; no chd.

Paul Varien; 1878-1898; b. Minn. d. Oregon, unm.
Abram Jay, 1881-1962; logger, bookkeeper, lumber inspector; m. 1st 1914, Mary Maderia; 2nd 1936, Violet North; no chd


Jesse, b. 1884; teamster, rancher; m. 1906, Jessie Jane Brewster; 7 chd: Melvin, Clinton, Thelma, Stanley, Burton, John, and Alvah.


Nettie, b. 1888; housewife, saleswoman; m. 1909, Evan J. Sibley;5 chd: Vivian, Evan Jr., John, Emily, William; m. 2nd 1959, E. K. Gade.

Dean, see Bollman 1.